Elly Ball, Elaine Ball and Emily Monsen at Content Marketing World 2019
Hi Friend,
Happy holidays to all and a very merry Christmas to those who follow Santa Claus! I hope you've all written your Dear Santa letters and put them up the chimney (if you have one!).
We closed the doors for registering for the Geospatial Marketing Academy (GMA) 1.0 on Monday 14 December. They'll reopen in May. I'm now a very happy Yoda (teacher) to an ambitious group of students who are determined to improve their marketing for 2021. Yippee!
Besides their self-study programme, our students have me and my team to bounce ideas off, plus live Facebook Q&As. The idea is for them to implement the process and catapult their geospatial sales revenue through the roof. BOOM!
Rolling into 2021 with a fabulous new process in hand, these geospatial marketers now have no excuse not to improve their 2021 marketing plans! I'm super-excited to see what comes of these amazing people.
As we close out a weird year in all respects – pandemic, racism, wildfires, Brexit, US election, etc – I wanted to give you my ridiculously useful holiday gift guide for geospatial marketers. Yes, I know I'm probably a bit on the late side, but it's ok… no sweat. You can still order!
Personally picked just for you wonderful humans (you are humans, aren't you?!) here are my top 10 choices….
The Geospatial Marketing Academy (of course) – the 12-month self-study programme for improving your sales revenue using marketing methods that have been tried and tested in the geospatial Industry. Even though the doors are closed, I'm offering you the chance to sign up! My wonderful news-goers.  The fee is $3,995 (£3,250 + vat). It's jam-packed with juicy content, tidbits, links, videos and live Q&A sessions. Use the code MRSCLAUS in the header of an email so I know you've come from this letter! Find out more about the ins and outs of GMA here. Remember, GMA 1.0 includes $2,500-worth of BONUS lessons from two best-selling authors!  And if you are not quite ready, you can sign up to the WAITLIST GMA 2.0 here. 
"This course gives you the foundation knowledge to help with marketing concepts and how to build your business. The course is streamlined and easy to follow with videos and workbooks to complete. I would recommend this to anyone interested in upskilling or wanting to learn about marketing and business. Thank you Elaine and team".  Peta Cox, Project Manager, Cardno Geospatial, Australia
That's it – my top-10 Christmas list of mega gifts for mega geospatial marketers! Thanks for reading this far. Thanks for your kindness and generosity.
Stay safe. Stay sane. Wear a Christmas mask.
I'll be back on 31 December.
Elaine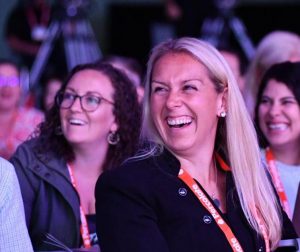 P.S. Forward this newsletter to a friend with an invitation to subscribe right here: https://www.elaineball.co.uk/get-the-latest-geospatial-marketing-tips/ 
* * *
TOOLS
Marketing tools I used this week:
Mailchimp for lead nurturing.  A simple, easy-to-use lead nurture system where you can set up a drip-feed campaign – ideal to nurture your target audience to take action!  Enjoy!