Here are 5 Simple Steps for Creating a Geospatial Marketing Plan that works for you!
1.Set a goal for your marketing
Example: to grow sales by 20% in the Construction market to $1m USD.
The trick is FOCUS! 📋
You need a goal in order to know where you are going and what it looks like when you have got there!
It must be SMART
Keep it simple – don't over complicate it
Sales conversion is a NUMBERS GAME and the rule of thumb is 1% conversion. For example: for 100 people signed up for your webinar; 1 person will purchase. Monitor it for YOU! Start here! This is a general rule of thumb.
2.Map out a path to reach that goal.
a. Who is your market and who are your buyers?
It might be that you focus on Project Managers (your key client or as I call it "your bread and butter customers") and Developers (those who you don't necessarily deal with directly, but who are super 'influential' in the buying process) as your audience segment. When you come to content planning and campaign management; your content will be focused around these two types of buyers.
b. Where do they hang out?
c. What problems do they have that we can solve with our business?
d. How can we reach them?
e. What tools can I use to get my message across?
f. What freebie or 'value added' content can i share to gain new leads? Ie webinar
g. Date for launch of webinar
h. Review the path
Tip: I use Google Docs and bullet point my plans. This is not only helpful for you, it's super helpful for your team. You can also use project management tools like ASANA to keep everyone FOCUSED.
Example: grow construction market by 3 new clients per quarter
Focus on Developers within Construction Market
Find out where they hang out; LinkedIn, Local construction events
Build a sales landing page which addresses their pain points and problems and answer these!
Hire a PR person to get my brand noticed in my niche especially locally
Use one social platform like Instagram as i don't have time to do all of them
Focus my content marketing on problem solving, client testimonials
Launch a webinar talking about 'How to save $$$ on unwanted construction problems"
Have a launch date to build a list of potential clients (So they have to fill in the details to sign up – all good marketing qualified leads).
Tip: I use Mailchimp and ZOOM for list building
Re-engineer the numbers; how many do you need on the webinar to make 1% sales?
Example:  I need 300 eye balls on the webinar, so we will do 3 webinars over 3 months
Review, rinse it and repeat the process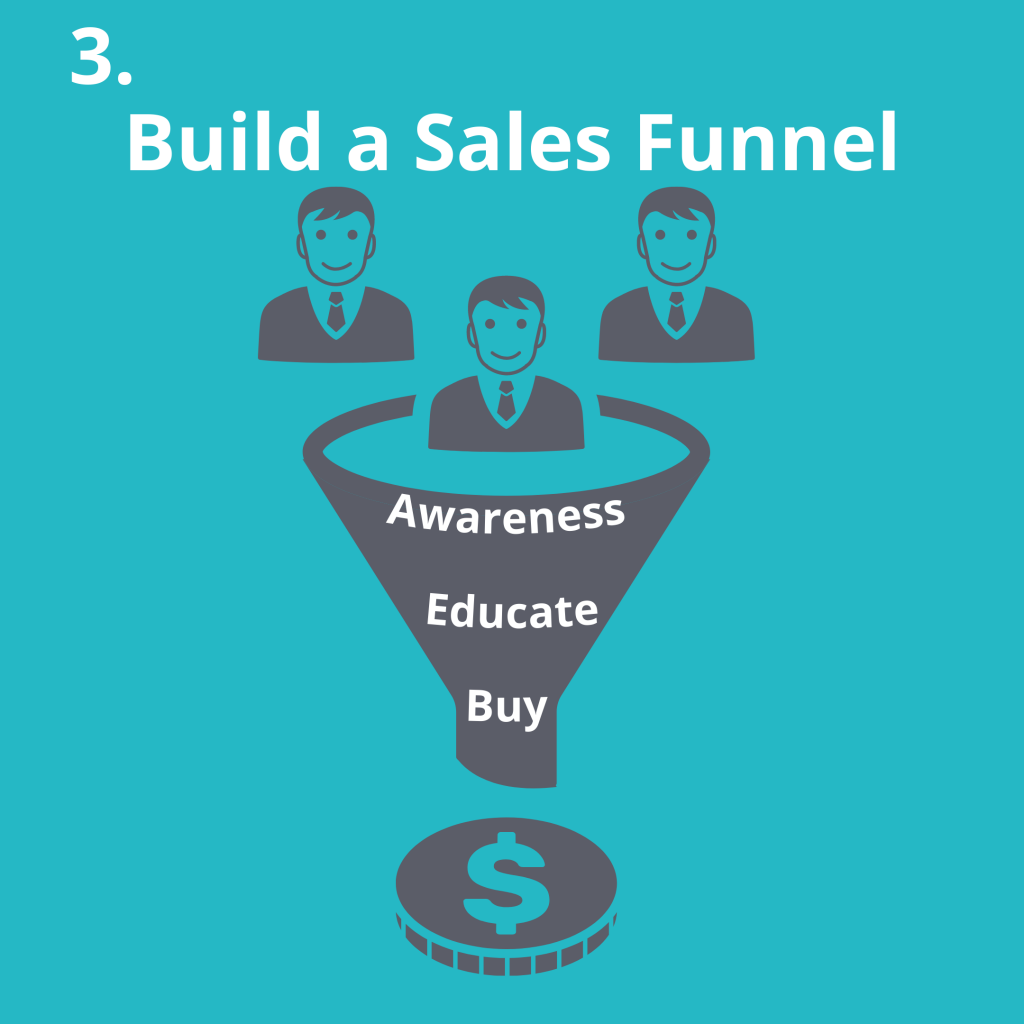 3.Build a Sales Funnel
Three phases to this:
Top of funnel = Awareness (the visitor sees your stuff)
Middle of funnel = Educate (the visitor has come back to read more and sign up to a webinar
Bottom of funnel = Buy (the visitor is interested to purchased)
Tip: Each phase of the funnel will have different types of content (because the visitor is at different phases of the buying process)! Known as a content roadmap. When I review my content road map; I write out three columns based on the sales funnel and fill it in accordingly. This is super helpful for your team or any third party who is helping you with marketing.
Understanding the funnel is crucial for sales development!
THE SALES FUNNEL CONTENT ROAD MAP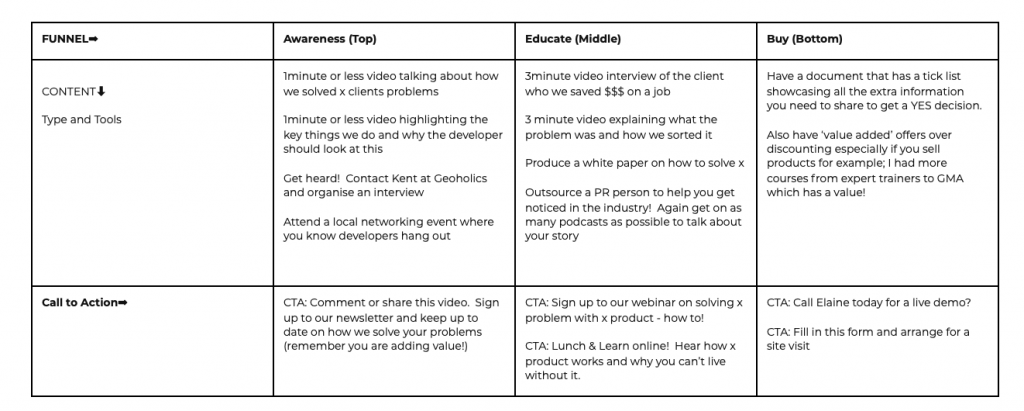 AWARENESS
The visitor is new to your brand. So keep the content short and to the point. It must be PUNCHY! Think of a newspaper heading!
Keep the content simple and consistent for best results
"Pretend that every single person you meet has a sign around his or her neck that says, "make me feel important" not only will you succeed in sales, you will succeed in life" Mary Kay Ash
EDUCATE
If you are not allowed to showcase your client; do a video showcasing what the problem is and how you are going to solve it. You don't need to reference the client but show you doing something in action. CSTi in New Mexico, USA are great at showcasing 'how to solve problems' without showing off their private client. Check out their Instagram
Make sure you have a good Call To Action like "Sign up to my Newsletter" or "Watch this video" or "Download this document explaining how we solved the problem for x client"
Calls to action are the golden nuggets (known as Marketing Qualified Leads) that give the visitor a cross roads to do something!
BUY
I use a document to highlight all the things (content) that prospects might ask during the final stages of the buying process – a cheat sheet. This is super useful for sharing and a great way to keep the prospect on track. It can answer questions that hidden-buyers within the buying journey may ask your prospect.
Don't be afraid to ask for that sale!
When you don't close a sale, open a relationship
Patricia Fripp

4.Think in campaigns.
A campaign is a bunch of activities using tools and content focused on one goal or message.
-Write out a campaign focused on your goal. When we're trying to attract 'developers' for example;
-Focus on where they hang out; like LinkedIn
-Do a search and find them using keywords like "Property Developer" or "Construction Manager" – get super savvy with LinkedIn's Sales Navigator to really refine your search.
-Spend some money boosting your posts, again focused on key words and job titles of that target audience

Psst: I've teamed up with Charlie Whyman who is delivering LinkedIn Training starting 8th February; don't miss out – Charlie Whyman LinkedIn Sales Training (If you are a GMAer; this is FREE for you)
-Do they hangout in any groups (again could be Linkedin)?
-What magazines do they read?
-Then you need to review what they are interested in and what problems they have? – this is where your content strategy kicks in. What content you will be sharing with them to add value.
-Remember you are looking for places where they hang out and plot out a steady trickle of juicy content that attracts them (top of funnel), that they will find useful. Educates and hopefully leads to purchase 💸. Use content like videos and educational pieces that attract and pull the follower through the funnel.
-Build a landing page just for the campaign with different elements of the funnel on the page. See Geospatial Marketing Academy as an example! Lots of great juicy content there covering top, middle and bottom of funnel.
WATCH THIS VIDEO ON LANDING PAGES
5.REVIEW. Review your plan, implement it, review it and repeat!
Tip: If after your desired time period, the plan hasn't worked, reflect and analyse your path and change the plan – not the goal!
Keep it simple, consistent, timely and focused.
🔽🔽🔽🔽🔽🔽🔽🔽🔽🔽🔽🔽🔽🔽🔽🔽🔽🔽🔽🔽🔽🔽🔽🔽🔽🔽🔽🔽🔽🔽🔽🔽🔽

🔝🔝🔝🔝🔝🔝🔝🔝🔝🔝🔝🔝🔝🔝🔝🔝🔝🔝🔝🔝🔝🔝🔝🔝🔝🔝🔝🔝🔝🔝🔝🔝🔝