Even I Elaine Ball was skeptical about hiring a consultant!
"Anyone who promises to change your Geospatial business by taking your hard earned dosh is worthy of close attention, even if I say so myself" Elaine Ball
I'm naturally open minded to most things but the older I get the more skeptical I become!?! Is it a limiting belief or am I becoming a wise old dame?  Anyone who promises to change your Geospatial business by taking your hard earned dosh is worthy of close attention, even if I say so myself.
I started Elaine Ball Ltd, a marketing and sales consultancy firm for the Geospatial Industry – back in May 2013 because i was sooooo frustrated at the LACK of consultants and coaches in the field of Geospatial BUSINESS!
A little History Lesson
Let me take you back to 2007 when my father kicked my butt right out of my comfort zone and stuck me head first into the role of Managing Director at MDL.
A short history of MDL
Measurement Devices Ltd (MDL) was founded in 1983, a global pioneer in manufacturing eye-safe, laser-based, time-of-flight measurement systems used in scores of applications worldwide in quarrying, mining, marine positioning, aviation, civil engineering and traffic control.
My dad, Steve Ball is a innovator and designer of 'tools' – from bore hole deployable cavity scanners that measured voids to collision avoidance systems for the offshore sector. Steve, a mine surveyor and hydrographer who trained at UEL [before it was UEL] and landed himself in Africa working for the likes of BP and Shell and dodging bullets during river surveys – decided his career was to design rugged innovative tools for measurement in harsh environments.  So MDL was born.
Back to me
So I was booted out of my comfort zone and landed myself in the role of MD, I mean MANAGING DIRECTOR SOL! (Shouting Out Loud). 27 years old, female, the bosses daughter. "Oh bloody great! a recipe for success NOT" My butt was skyrocketed into the role of the boss! "Jeeeezzzee Dad! Thanks!"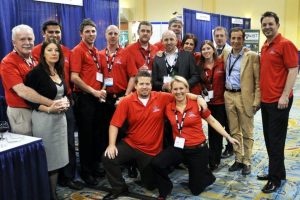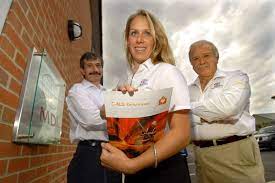 Of those who don't know me will soon find out I am very tenacious! Steve said to me "you will either sink or swim Elaine" knowing fine well I wasn't going to sink!  [CRINGE] 27 year old me had to find a way to get out of her family bubble and sort this 💩 out!
Through my network I came across:
The Institute of Directors (was this the fuddy duddy club? #skepticism number uno!)
An NLP Master Practitioner (what is this fluffy stuff? #skepticism number 2)
And a business mentor (a what? #skepticism number 3)
Maybe it was my age but I wanted to grow personally and professionally and I didn't want to let my dad or the 40+ staff down either! I had to be strong. And I had to squash my skepticism and find a way to WIN!
So why am I telling you this?
Unlike most of you, I didn't have any help!  I knew of no sales or marketing people who had experience in Geospatial or Manufacturing or dealing with surveyors!
I had to find it! THE HARD WAY!
I had to learn what worked and test it in my business – falling flat on my face several times (like a cow pat!)
I had to start somewhere even though I wasn't sure where to begin
I had to step out of my comfort zone, squash my skepticism in the outside world
So………….. DON'T BE SKEPTICAL Geospatialer, be cautious and do your homework but be open minded!
What to do if you are skeptical
Do you research, find out their background – ask around!  Do they have experience?  Whats the proof?  If they are already working within the industry, ask your network about them. Even set up a call and see how you feel about them.  It won't hurt.
There are several great people within the Geospatial Community who are really very good and I'd recommend them too.  These include Charlie Whyman who used to sell Riegl Laser Scanners and now has her own B2B Marketing Consultancy called Curious B2B Marketing or Kevin Corbley who owns Corbley Communications Inc a Marketing Communications and Content Creation for Geospatial Organisations Worldwide Since 1993.  Kevin is very well respected within the community all over the globe.
As you will know by now:
My mission is to up level the Geospatial Industry Globally by giving Geospatialers the proven marketing and sales tools I never had – you can find out a bit more about me here
Making it super duper easy peasy on how to increase sales quickly by enhancing enquiry quality
Speeding business stuff up to improve methods therefore profits
Having the tool kit that works and I could have only dreamt of
If you are a Geospatial business who wants to succeed, to be the best, to Uplevel – then you know how I felt! Finding folks in our industry who know the workings of it, the lingo, the language, the network is gold. Skepticism is good but don't let your limiting belief patterns stop you from succeeding. I didn't and it has got me far!
So why were my skepticisms of hiring a consultant/ coach debunked
I had a bigger problem to fix!
I was pig 🐷 headed?
I had faith because they had experience on their side
I wanted to be successful
If I didn't sort it out, no one would!
I thought of it as building on my foundations! Getting information from outside my bubble – this had to help me somehow!

I didn't want to fail
My three questions to you👇
What are your thoughts with the coaching, consulting industry?
Are you skeptical? If so why? If not, why?
What advice would you give your fellow Geospatialers?
Thinking of outsourcing your Marketing for your Geospatial or Survey business?  Read this first!