Shooting Videos
Organisation is key
Sitting in Craiglash quarry, in the highlands of Scotland in a pimped up high viz van watching our video crew setting up for a shoot is somewhat inspiring.  The weather, can you believe it, is actually sunny with virtually no wind!  Perfect weather to showcase the new mobile mapping system from SABRE Survey, based at Brathens Business Park near Banchory, Scotland.
The Set up – Shooting Videos

The start of the shoot was somewhat cumbersome, with access to the quarry being a little difficult, due to us forgetting our high viz jackets and hard hats.  After 20mins, we managed to find some kit.  Next, was to find a location that looked great!  Made the pick up truck stand out with its tail showing, logos and all.
Watching Matt and Bethany maneuver their tripods and huge cameras around the cobbled and uneven terrain, looking for the best position for their shot.  Precision is somewhat important for this pair, and when you are working with a client, it's important to have the right people delivering the best service possible!
Getting it right – Shooting Videos

Watching from the comforts of my warm van (and yes, it was chilly but comfortable) its amazing watching the video crew start and stop the shots, reverse the van, drive back and forth, all to make the shot look great!  However, very time consuming
There is a lot of preparation that goes into a video shoot even before we even say the words "ACTION!" First you must prepare a shooting script and any audio that will accompany the video, then you find the right locations to shoot and then right videography equipment and then the organization of the client, who is not familiar with working with video nor doing an interview!  Believe me, doing the video shots for our website were very uncomfortable and somewhat time consuming!  I have no idea how models or TV presenters do it!
Perfect shots, hidden secrets & boys toys
One of the best shots, is Matt hiding in between two stockpiles, neatly hidden to focus in on one perfect angle.  This video is going to be interesting!
Luckily dust isn't a pain today, the conditions for a perfect video have to be 'some' cloud (no direct sunlight), low wind and no dust.  Something you would not expect in a quarry.
The van lights flicker with the beacon warning the huge VOLVO drivers zooming around the quarry, playing in their back hoes or to me, diggers that little old us are trying to shoot the number one film of the decade.  Ok Ball, that's a bit extravagant, but it sounds good ah!
What surprises me is the size of the trucks and they don't drive slow either!  Handbrake turns going on, it's a big boys playground!
It's actually an occupational hazard shooting video in a working quarry!
Complications
As the day progresses, dust does become an issue, yep, its still sunny and some what hot in an aggregate quarry.  Reflection from the floor is hitting me square in the eyes, nor do I have my sun glasses with me!  Silly mistake.
What is interesting is the crew are using 'light reflectors' to actually increase the light on the mobile mapper, thus highlighting key features of the product.
Can you image if it was 'raining cats and dogs' as we say in Britain.  Our brave video crew has flown up from London to carry out this video shoot.
Finding the right team – Shootiing Videos

As I mentioned above, getting the right video team is important especially if you want a job doing right!  I've used several other companies in the past and using someone you trust and who knows how you work is key for success.  Cost can be an issue especially if we have to fly to a desired location.  Videos can cost anywhere from £1k to £10K GBP.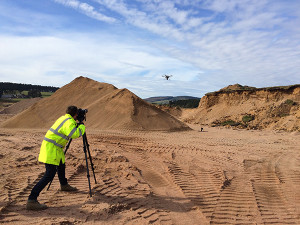 However, with video on the up, and with the social channels such as Twitter and Facebook introducing their own native video to challenge the likes of YouTube, it's becoming more and more important for technical type companies working within Mining, Geospatial and Offshore industries to have videos available for their clients.
The cons
Filtering through the hundreds of video production companies is hard work but when you find the right one, it's like glove to hand!  Are they willing to try new things?  Be flexible for you and the client?  Creative?
You will lose out to your competition in this game if you don't use such mediums to get your messages across! Customers want access to information easily and without effort!  We have well rehearsed the agenda for today's shoot, making sure we get all the key elements into the picture.
As I mentioned earlier, video is important for Mining, Geospatial and Offshore industries.  The equipment being sold and used is somewhat technical and is used in harsh conditions therefore needs to be carefully choreographed, making sure the message is pin pointed! As they say "A picture is worth a thousands words"- think how many a video is worth then!