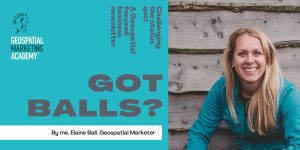 NAIL your lead gen with email marketing 📩
When it comes to making your mark as a surveyor, your accuracy and dependability are your superpowers 🦸‍♂️
But many companies in the geo-spatial space struggle to effectively communicate their expertise, reliability and passion.
Sure, there's technical knowledge in abundance…but without the right marketing know-how, it won't translate to sales.
The hard sell ain't gonna cut it – you need to inform, educate and inspire potential prospects to demonstrate why your services are indispensable. This means generating and nurturing leads.
Time and time again, the power of email marketing is slept on. But with the right strategy, emails are a powerful tool for warming up prospects and getting clients.
Struggle to get those all-important open rates and click-throughs? Here's what you should ask yourself…
🎯 Did you send it to the right people?
📅🕒 Did you send at the right time of day/day of the week?
💬 Was your messaging and intention clear? E.g. Did you have a strong header or subject line that addressed a common client issue or goal?
🤮 Was your tone too aggressive? Did it come across 'salesy'?
↔ Were you concise with your narrative?
📢 Was there a clear Call to Action? And was that a simple process for the reader to undertake?
🧐Where did you lose your audience? Did they click but not complete? Or did they not even get to the click?
"But do emails still work for lead generation?" I hear you say…
The answer to that is: YES! Some of our clients achieve open rates of over 65% with 12% click-throughs,  which are way above the industry average of 25% and 2.5% respectively.
Want to get the lowdown on how we do it? Book a discovery call about the Geospatial Marketing Academy TODAY to get your email marketing in check. Let's get you those leads!
Click the HERE to book yours.