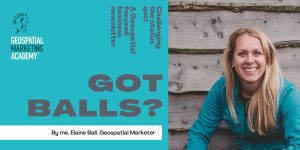 Hey Friend,
2022 planning got you feeling like this guy? ➡️🤯
We've all been there, Geospatialers. When it comes to nailing your marketing plan for the year, looking at a blank page is equal parts intimidating and inspiring.
Maybe you're racking your brains for ideas…but coming up with zilch.
Maybe your head is fizzing with possibilities…but you've got no idea where to begin.
Either way, to achieve those sparkling results and ROI, you need a plan. So, let's put pen to paper and get you outta that funk, shall we?
Here's the lowdown…
1️⃣ Set a goal for your marketing
Posting filler content is a surefire way to kill results. A kickass marketing strategy starts with a crystal clear set of goals. Every piece of content you share should have a purpose and support your wider business objectives.
Let's say you want to grow sales by 20% in the construction market to $1m USD. It's time to focus and develop a step-by-step, results-driven strategy that'll help you get there. Sales conversion is a NUMBERS GAME and the rule of thumb is 1% conversion. E.g: for every 100 people that signed up for your webinar, 1 person will purchase.
Keep a close eye on your metrics and monitor those results. What's working? What isn't? How can you finetune your strategy so it edges you towards your goal more effectively?
2️⃣ Define your content pillars
Content pillars are a set of themes or topics that your business can use to create posts (e.g. social media captions, email marketing, and blogs). We're talking relevant, informative, meaningful content that appeals to your target audience.
 Ask yourself…
 ➡️ What platforms are my target audience using?
 ➡️ What topics are they interested in?
 ➡️ What values do they hold?
 ➡️ What topics are educational and valuable to my audience?
 ➡️ How can my business's social media content target my audience's challenges?
The answers to these questions will help you identify the content types your audience will want to see.  Then, you'll be able to map out your key content pillars WITHOUT the guesswork!
3️⃣ Think in campaigns
Simply put, a campaign is a bunch of activities that support one core goal or message. E.g. posts, videos, and educational content that guide the follower through the sales funnel and lead them to purchase XYZ.
Map out a campaign focused on your goal and target audience. Remember, you want to identify where they hang out and share a steady stream of juicy content that attracts them, educates them, and leads them to purchase.
Let's say you wanted to target developers. We'd recommend the following:
➡️ Focus on where they hang out (e.g. Linkedin)
➡️ Do a search and find them using keywords like "Property Developer" or "Construction Manager" – get super savvy with LinkedIn's Sales Navigator to refine your search.
➡️ Spend some money boosting your posts, again focusing on keywords and job titles of that target audience.
Does planning feel yucky?  Would you LOVE to have a streamlined planning process that works?  Why don't you jump on a courtesy call with me to find out how you can get your Geospatial business on track in 2022! 👇👇