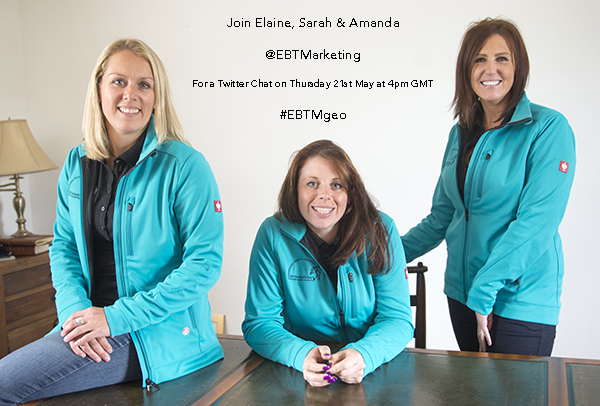 Let's get the buzz started for GEObusiness 2015
From the success of our first Twitter Chat (trial) talking about 'what you will be showcasing at Geobusiness 2015', we at @EBTMarketing have decided to launch a twitter chat on Thursday 21st May at 4pm GMT prior to the show starting on Tuesday 27th May.  Why?  To get the buzz going!!
What do we do and how does this work?
We will post 3 questions over the course of 30mins on @EBTMarketing as follows at 4pm on Thurs 21st May
Q1. What are you showcasing at Geobusiness?
Q2. What do you expect to get out of Geobusiness?
Q3. How will you know if GeoBusiness is successful?
When you answer any question, please add A1, A2 and A3 to represent questions Q1, Q2 and Q3.  For example:
A1.  Awaken your inner GIS solutions with @LaserTechPro @Geobusiness. Booth L28
A2. Meet surveyors who could use our kit #EBTMgeo @EBTMarketing @Geobusiness
A3. We will have secured five meetings at the end of the show #EBTMgeo
You can comment and share as much information as you wish.
NOTE:  Each answer must contain hashtag #EBTMgeo
WHY?  So we can track the progress and give you a report at the end!  See previous TwitterChat
Rules of the game
You can answer as many times as you like
The goal is to 'interact' with others; retweeting (RT) and helping each other out.  The more RT's, the more exposure you will get!
Use Hashtag #EBTMgeo
Google and other platforms love this so it will improve SEO to your own websites.  Remember to use Keywords that represent YOU! I.e. #Survey #GIS #Mapping
Why key words?  When 'people' search for a specific word or phrase in Twitter, it will bring up 'all' the relevant information related to that keyword.
The benefits
Exposure to the Internet (search) (people trying to find you)
Exposure to potential clients
Exposure to who is following you
Exposure around Geobusiness
Exposure to other exhibitors who may not have heard of you
FUN!