Geospatial Industry Marketing Workshops
With many areas of a business to review, EBTMarketing are promoting Geospatial Industry workshops at a discounted rate of £950 + vat + expenses until the end of April*.
The workshops are designed around your needs, with focus on lead generation, marketing execution and social media.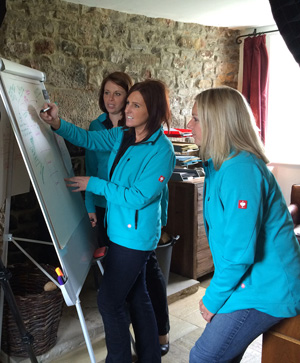 We can come to you or you come to us in Ripon, North Yorkshire.
With Elaine and Amanda as facilitators, the workshop will focus specifically on your geospatial business.  Making it unique to you.
"Elaine recently held a strategy day for us and what really differentiated it from other similar days we've done was her comprehensive industry knowledge and relevant professional experience. That really helped her credibility and encouraged openness from all participants resulting in plenty of sound ideas which will be developed and implemented" Oliver Brooks, Managing Director, KOREC UK
Benefits to using EBTMarketing are
We understand the Geospatial Industry
We understand the terminology
Know the networks, publications and who's who
Are excellent marketers with global experience in sales and marketing products and services around the global.
"Elaine is a highly motivated and driven manager and acts in a structured way with her customer and the team. She starts her projects well prepared, keeps tracks of timing and builds on positivity and trust. She is result driven and her own business experience as a C-level helps the C-customer to quickly work on the real pain points. Her experience has a real added value and works highly inspirational. In a scientific and technical environment she manages to keep the team motivated and participative on the project and has a good follow up concept. I would highly recommend her services" Marianne Coudere, CEO, Coudere Belgium
To find out more, call Elaine on 07825517850 or email elaine@elaineball.co.uk for further details.
* 50% diposite to secure price
* Workshop to be carried out within 2015
* Offer ends 30th April 2015
About
Elaine Ball Technical Marketing (EBTM) Ltd is a professional and devoted International Technical Marketing Consultancy, specialising in helping B2B companies grow and become profitable through focused strategic marketing, business development, marketing planning and marketing implementation.
With over 30 years collective experience, EBTM expertise's lie within the Geospatial, Laser Scanning, Survey, Mobile Mapping, Oil & Gas, Offshore, DP, Dynamic Positioning, UAV, Mining and Quarry sectors.
EBTM simplifies the marketing process, we remove marketing jargon and replace it with easy to understand terms, which in turn nurtures learning, understanding and success.
EBTM have 2 divisions: Marketing Consultancy and Marketing & Business Development Training.
The Marketing Consultancy arm of EBTM is split into 2 sections: 1). Strategy day work (focused on 'where to go'): facilitation and development.  2). Marketing planning (taking the strategy and turning it into a marketing plan) 3). Marketing Implementation; actually doing the execution.  Being your marketing department.
Contact details
Tel: Elaine +447825517850