How to attract and recruit surveyors through your MARKETING!
Supply & Demand
Talent is a business priority for every business, not just within the Survey Profession.
From start up survey firms to large companies and government organizations like HS2 (UK) looking to find over 400 Qualified Surveyors within the next 5 years!  
Finding surveyors is nothing new! 
2008 recession, Brexit, covid19, Ukraine War, Politics have all accelerated the recruitment crisis.  Some more so at local levels.  
The shocking news is that the shift has moved from employer to candidate with people moving around, not being loyal to anyone's company! Demand definitely outweighs supply but are we looking at this in the wrong light?
Did you know that 50% of the global workforce is now Millennial (those born between 1981 and 1996)  increasing to 75% by 2025?  
Their behavior is coloured by their experiences of the global economic crisis (2008) and this generation place much more emphasis on their personal needs than on those of the organisation!  Covid19 has accelerated it further. 
This is a global issue, not a local one.  So what can you do about it? 
It's a problem – right? So,
Are you in line with the global recruitment trends? 
Are you familiar with what candidates are looking for TODAY post Covid19? 
In 2008 88% of the millennials surveyed by PWC were looking for employers with CSR (corporate social responsibility) values that matched their own, and 86% would consider leaving an employer whose values no longer met their expectations. 
Did you know that 70% (CVVIZ) of candidates (all generations) use Google to search for jobs and research potential employers.
Did you know Millennials tend to be uncomfortable with rigid corporate structures and turned off by information silos.  They expect rapid progression, a varied and interesting career and constant, yes constant, feedback.  
We have not seen a corporate culture like it EVER! The trends are looking at us in the face and we are totally blind to it. 
"Now you have an even bigger dilemma; you may be stuck in your old ways of marketing but you have to get savvy with your marketing to get people in"
Attract the right candidates!  Find the right candidates! Communicate to the right candidates. 
The thing is; over 83% of millennials use Google to search and with 50% of the global workforce now millennials are you even on Google to even get a look in? Do you know?
This white paper is an amalgam of the current recruitment crisis for the Survey Profession globally.  It uncovers the dilemma of supply and demand and the latest global factor of a change in people's attitudes post covid19.  
It is not set in stone but these factors are affecting everyone who needs staff.  
With my marketing hat on 'of course' I will share with you my findings and ideas on what you must do.  I will not dive too deeply into retention as this is another can of worms for another day but I know one of the biggest weaknesses Surveyors have is lack of brand awareness and communication to their target audiences be it customer or CANDIDATES.  
No one knows what a surveyor is!  THAT IS A FACT!
Survey businesses need to get savvy with their marketing in the fact of communicating their value.  Why? How?  Content marketing is how you will attract and get across your value when done right.
Now I'm no recruitment specialist but I know a thing or two about marketing and how you can use this to accelerate your recruitment drive but first we need to unpick where this all began and what has changed so you know what you need to do next.  
Having an understanding of the issues will help you assess and realign your recruitment efforts through marketing and in doing so raise your profile overall. 
What accelerated and challenged Supply & Demand?
Pre-COVID 19… and post World War II,
businesses went about hiring in a particular way.
A job description was drawn up and conveniently squished into the organizational chart.. then what kind of pay they should receive.  An advert or two was written and printed then the applicants applied.  Easy.
Next you sifted through the forms to see who would be a good fit and set up interviews and within a week or so, offered someone a job. 
Simple, right?


Aftermath of COVID 19
Covid19 accelerated things that were already happening.  
Over 100 million workers or 1 in 16 people will need to switch occupations by 2030 according to McKinsey & Company.  We are now seeing a mass of disruptive trends in:
remote working

e-commerce and 

automation.  
BUT it's not all doom and gloom… this is an opportunity, Geospatialers!
Remote Working
One of the biggest shifts in the aftermath of Covid19 which forced many employees into working from home and resulted in a complete mind-shift for both employee and employer is that employees are now in the driving seat!
Let me explain
The onslaught of emerging employee experience (EX) challenges
EX what?
Employee Experience Challenges
"that's a mouth full" 
According to Forrester Research "none of this rising focus has prepared businesses for the commensurate rise of EMPLOYEE POWER!"
"The very turbulence that your employees just survived has now placed them in a different state of mind!"
Survey businesses have a challenge ahead of them.  
How do they solve these different things employees now want?  Heck, pre-covid there was a lack of surveyors and now it's 'I want different things in life!"
Unfortunately you are not in your own boat!  Everyone is having the same dilemma.  From nurses to engineers. 
The shift of employee experiences boils down to a big change.  
Survey companies are going to have to answer questions like: 
Where their employees will be based  

What technology will be available to them 

What approaches to training can support them

Sick and unemployment benefits will need to be addressed  

How many hours will they work over which shifts?!
Money isn't everything.  Millennials are attracted to employers who can offer more than merely good pay!  44% of respondents questioned in PWC's survey  said competitive wages made an employer more attractive but the biggest draw for millennials is the opportunity for progression.
Even a mindshift on career development is going to have to be studied if they want to keep said Surveyor!  
The change is two fold; 
Millennials being the main employee in 2022 and,

Covid19 accelerating everyone's mindshift
It's not just Millennials that want more out of life! 
Flexi working to spend more time doing other things
Covid19 has definitely taught me one thing; not to over work and! (cough!) it's not what life is all about!  Heck I'm now sounding like a Millennial and I'm Gen X!
While the new digital way of remote working is great for office staff, this isn't the case with surveyors, or is it?  
The change is flexibility or flexible ways of working.  For example; instead of data processing back in the office, can it be done from home?
Survey company owners are going to have to think about this in order to attract and retain personnel.
NOT searching for a job!
Census data shows that the majority of people who took a new position weren't even searching for a job in the first place!  Some person hunted them down and then approached them directly! 
As Peter Cappelli of Harvard Business Review (Magazine May-June 2019) comments; a business does not care if the candidates are searching or not, just find potential candidates to fill the funnel. And while I'm a big advocate for LinkedIn, LinkedIn is high up there on the recruitment companies radar for searching for potential candidates. 
Persuasion techniques are commonly used to see if candidates will bite.  They don't even need to be looking for a job!  As PWC found, if a new company has excellent opportunities for personnel development and a good reputation within its sector, higher than the candidate's current role, millennials especially would have no hesitation to switch. 
Hiring is tough and if you manage to entice a Surveyor to your biz, what's to say they don't get poached to the next survey firm down the road?
I've seen it with my own eyeballs, companies hiring from their competitors and vica versa.  A scary stats from Census and Bureau of Labor Statistics in America shows that 95% of hiring is done to fill existing positions.
And data gleaned from LinkedIn on hiring, indicates that the most common reason staff consider other positions is career advancement.  As Harvard Business Review May 2019 indicates "the root cause of most hiring, therefore, is drastically poor retention"
 GULP!
Managers becoming coaches
Career progression and development is seen to be high up there with the employee experience change.  
Company bosses are going to have to switch mantra from ordering to nurturing employees, developing a more mentor type attitude.  
I can hear you thinking right now "lovely! I have enough to do already, they need to get on with it, I had too!" 
… and that's the issue right there! 

Survey bosses will need to address how they manage and turn it around in order to put the emphasis on developing a well nurtured employee.  Thinking about it is not going to cut it for the new candidate, proof and planning will need to be addressed and seen.  This taps neatly into your content marketing plan and showcasing it for candidates to see.
Cross Channel Experiences when Recruiting 
Then there is the focus on a seamless cross-channel or omnichannel experience.  "OMG Elaine… what does this even mean?"
Hold your horses
It is a fancy word for increasing product discoverability!  In this case "increasing vacancy discoverability. YOU"
Candidates are looking for a seamless cross-channel (or omnichannel) experience; in other words the employee wants a hassle-free experience when it comes to finding the right employer.  You can see why the Amazon platofrm has done well!  It's a seamless experience when purchasing. 
For example, a candidate visits different sites and places (online and in-store) owned/ run by the employer and it feels integrated. Navigation is smooth and consistent.  The experience is flawless and uninterrupted  – making it super easy to navigate and FIND relevant information like "10 reasons why you should work for us?" or "What does a River Surveyor do? Is it for me?".  Instead of thinking in JUST a 'mobile experience' for example, we think in a holistic approach.  Survey businesses give access to their products, offers, support and recruitment vacancies to customers on all channels, platforms and devices.  Read more here from HubSpot
The employer needs to up their game when it comes to omnichannel interaction to make the experience as seamless as possible, thus attracting more of the right kind of candidate because they are satisfying the candidates thirst for information and education.  
It's exactly the same with buying and selling!   B2B (business to business) buyers and sellers now prefer digital self-serve and remote human engagement over face-to-face interactions.  Lockdown has accelerated it.  
Recruitment and Selling are in the same boat!
So Survey businesses must think more like a marketer than a recruiter when it comes to hiring staff.
And finally a big one!  
A commitment to ESG Values! 
Otherwise known as Environmental, Social and Governance.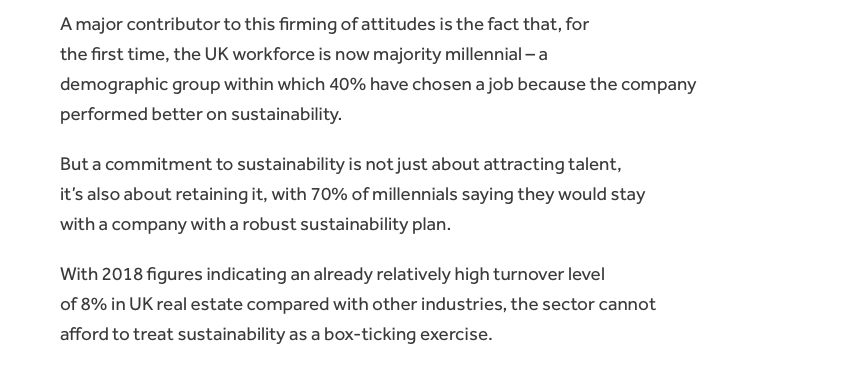 As I touched on earlier, Corporate Social Responsibility was already on the high side several years ago.  Tied in with ESG, that has escalated the environmental and corporate social responsibility today. 
ESG is not going to cut it with the majority of the millennial workforce with ticking boxes!  You need to prove it!  Show it! Hear it! 
While recruitment is tough, it's tougher to hold onto surveyors… and this is a golden egg you want to grow! 
So in a nutshell, what are we facing?
A shift in how people work

A more flexible way of working

Career development

Managers becoming teachers

Integrated cross channel experiences 

And a commitment to ESG values
"Yes I get this Elaine!  So what does this boil down to?  What has this got to do with Marketing?"
Savvy Survey Business owners need to take this information and get selling but unlike selling a service, they are selling themselves to attract a new kind of candidate. 
Before I dive into the HOW factor on what to do and where to even look for a Surveyor –  I must  ask how are candidates looking (if they even are) and what can a survey business do to switch mindset?
This is a very important part in any company's armor.  Why?
Marketing plays a HUGE role here.  If your survey biz is being a sheep and following the same old ways of doing business, you will just be a number a candidate will pick.  If you don't pay any attention to how you recruit, candidates will have no value to go on – it's the same as marketing your survey firm!
How are candidates looking?
So how are candidates looking if they are not getting approached?  Job seekers are using search websites like Google and also Glassdoor (top 55 job boards here).
"On average, job seekers use 18 different sources when searching for a job!" according to Careerbuilder.
Candidates are doing their due-diligence!  So if your survey brand isn't actually alive and kicking, what chance do you have when it comes to recruiting new surveyors?
Precisely! I rest my case! 
You must treat it like a Marketing Campaign to start with.
Word of mouth is still the best form of spreading the word same with your marketing hat on and targeting well known brands like Jacobs (brilliant landing page btw)  first who have career websites or pages showcasing what they have to offer – however you have no excuse not to have a dedicated recruitment page on your survey website – even if you are recruiting, or not. 
Now like buyers who are looking to buy your survey services (74% (Forrester) find you before you even know about them) it's the same with candidates; over 67% of them find you first before you (the business) even know that person exists
"67% of candidates find you first before you even know that person exists"
Are you actively marketing and communicating to a

focused

audience?

Are you attracting candidates? Do you know?
Do you have an online job application form that is easy to fill in when they find you?
Can you tell how many people landed on your website who are seeking a job?
Nope I bet you don't! 
Mindshift for the Employer
Since the pandemic even my mother who is in her 70's has adopted ZOOM!  Tech adoption and usage since the start of Covid19 has sent the digital world into spasms. The abrupt lockdown has forced folks to 'go digital'.
They have been made to accept the new ways and no one is going back! So what does this have to do with recruiting surveyors?  Everything!  
It's a business problem not a Surveyor seeking problem!  
Companies are going to have to adopt a new mindset if they are going to stay in the game. Not only are they way behind with marketing their survey biz, they have a new dilemma when it comes to holding onto and recruiting new talent.  
So here are the eight recruitment trends you need to hone in on.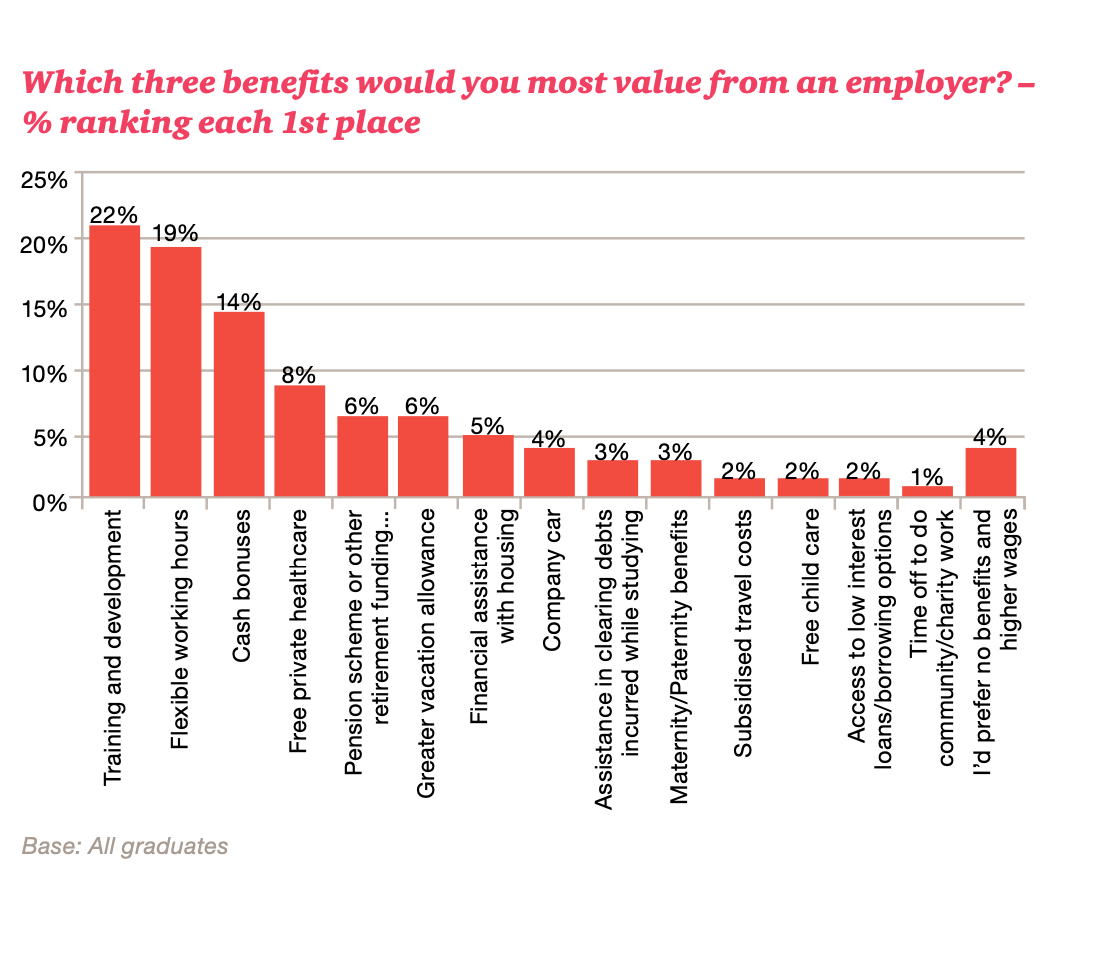 1. Lifestyle shift
;
the pandemic has made employees reassess what they want out of life.  Working for an inflexible, stubborn, old way of thinking 'type' of company is not going to cut it anymore.  Employees are now in the driving seat when it comes to choosing who they want to work for and they ain't sticking around if you are sat in your old ways.  
That also includes where and for whom they do it!  So if you had little trouble attracting and retaining talent and are now on the other side.  The recruitment dilemma is not just a survey one, it's a global issue due to the mind shift post pandemic!  So don't be fooled or complacent people!
Action: review the way you do business to assist and cater for a more flexible way of working. 
2. Look at your compensation post pandemic.
A hard one as we head into another potential recession but Surveyors need to think smart by offering bonuses and lifestyle swaps in exchange for compensation.
Packages need to be addressed and lifestyle is high up there on the radar of news – new post covid19 candidates minds.  It's not all about the money!  
This is exactly the same as selling your services and the customer going with the cheapest offer.  Said customer has no value to go on, so relies on the cost instead.  The same goes with recruitment.  There is no value shared so candidates are jumping ship.  Survey owners are not focusing on whom and are stuck in a rut and recruiting the same old way.
Action: in the job application, include a poll for the candidate to tick reference 'what is important to you' – this will give you a good indicator on motivation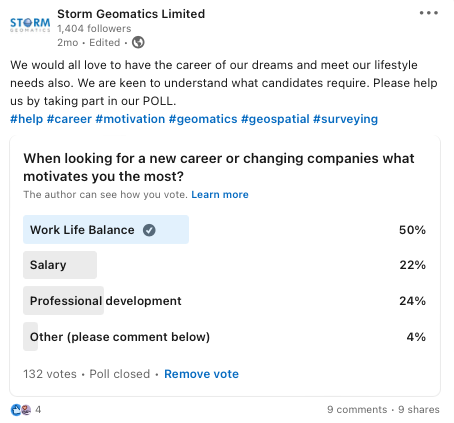 3. Adopting a
hybrid
model
of
working
vs fully in-office model. 
Survey biz will need to adjust to having a hybrid model where office staff can work from home and coming together for face-to-face experiences such as meetings, project updates and promotion opportunities are required.  
Companies who fail to do this will feel the wrath of the employee.  Savvy Survey businesses are getting down to the nitty gritty.  50% of respondents (132 votes) from a poll conducted by Storm Geomatics Ltd on 'when looking for a new career or changing companies what motivates you the most' showed 'work life balance to be the number one thing with professional development coming in 2nd place at 24%  See poll here for details which ties in with what PWC have learnt in their 2008 and 2020 surveys on Millennials. 
4. Employee recognition
Employee recognition will need a boost to attract and retain your new recruits.  You will need to improve employee engagement especially since the pandemic when employees regularly went above and beyond to help their organizations through the crisis.  Hays NZ have a nice staff engagement report to download here
Millennials especially will need a lot more feedback than what you have given in the past.  Honest feedback in real time, yes real time will be needed to keep millennials happy.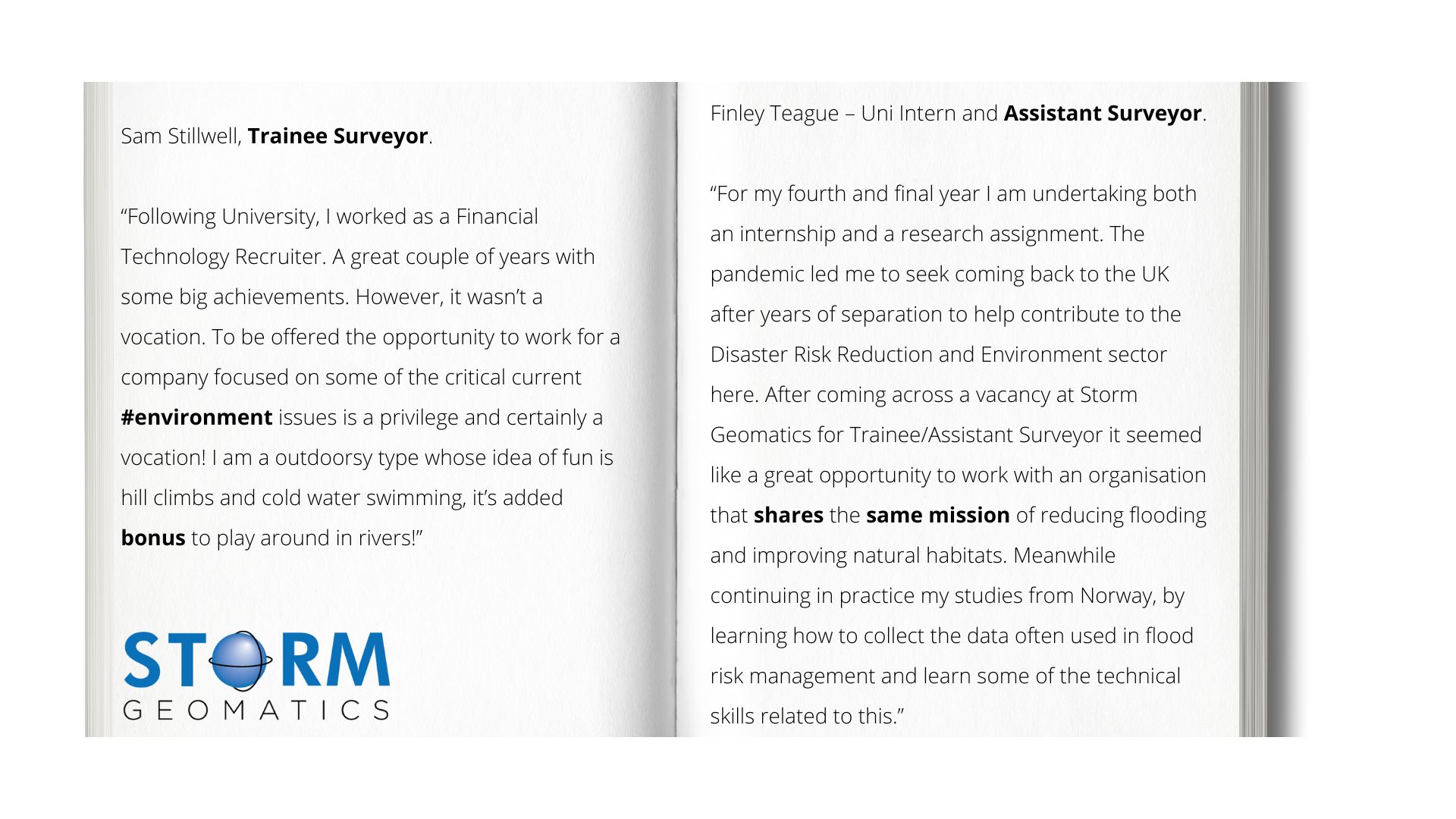 5. 
Understanding
'values'
of the candidate? 
Finding out what someone wants is half the battle.  Meeting those criteria is the next challenge but you need to know what they are first.  Use LinkedIn to conduct polls and ask questions that will give you some idea on what your candidates value.  Heck, even ask your current employees what they really want (within reason of course).  It will uncover some things you may have overlooked.  
Action:  Sit with current employees and find out what they value.  List these and discuss what is reasonable to implement in your survey business.  
6. Becoming a coach!
Managers must shift to becoming more like coaches than supervisors.
But as McKinsey & Company points out "Being a good boss isn't easy.  A Gallup study suggested that only 10 percent of people naturally have all the traits required to be a great manager.  The good news is that many of these skills can be learned" you can see where I'm going with this can't you! 
According to Harvard Business Review, 70% of employee development happens through direct experience rather than formal training, so Survey Business owners must review the way they manage in order to not only recruit but retain their staff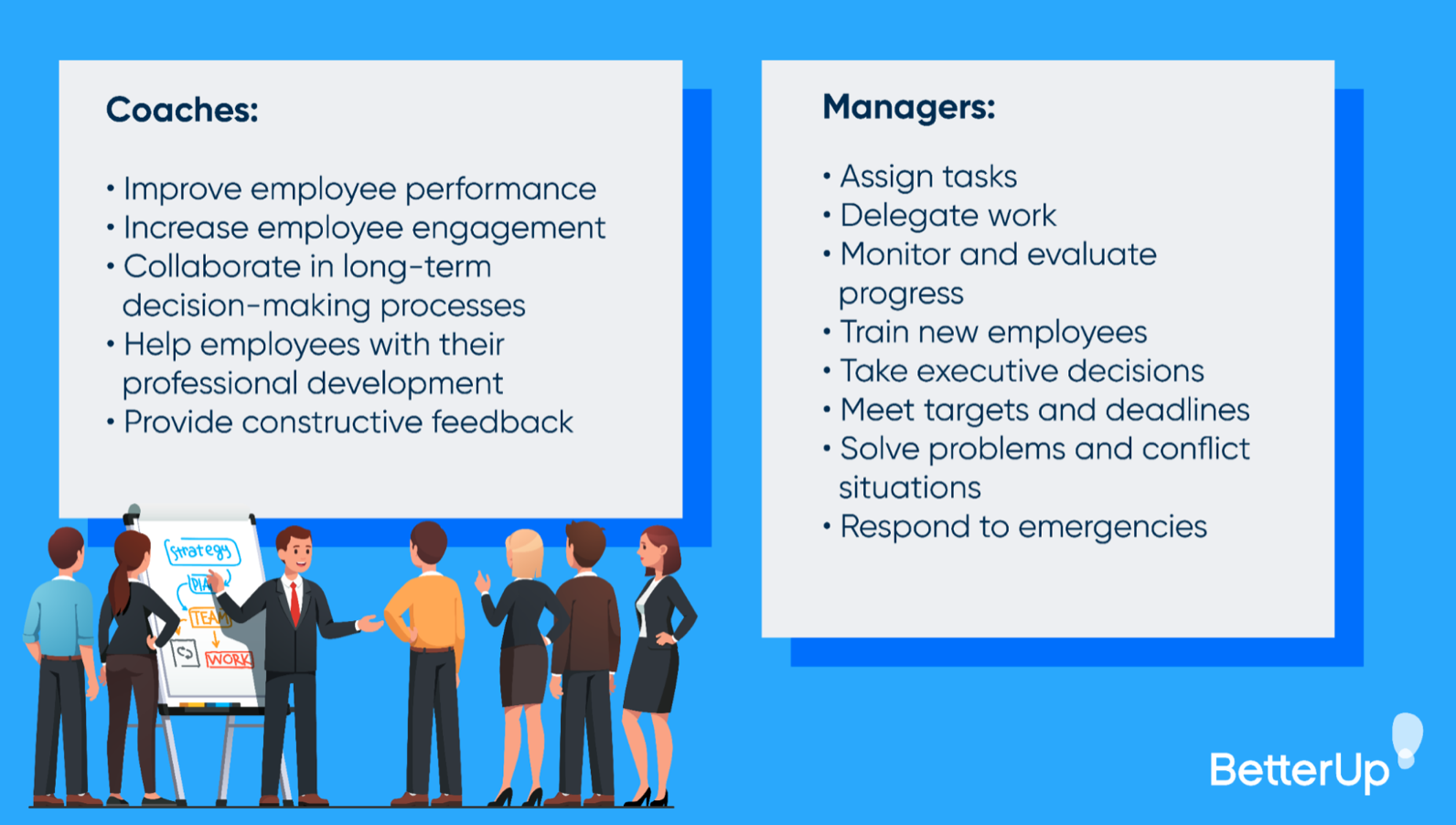 Action:  Look at coaching courses you could put management through to develop their mentoring type skills and/ or assess coaching experts like Averil Leimon at White Water Group
7.
ESG
–
Environmental, Social and Governance
The big thing now is ESG – Environmental, Social and Governance – are you showcasing what you are doing for ESG?  This will become a BIG THING for recruitment to come.  It's a key priority globally so employers need to upskill their marketing communications and reinforce the good things they are doing to attract a new mindset in candidates like Storm Geomatics Ltd with their mission Storm Wildlife – seek opportunities to create and protect habitats for nature to thrive so that future generations can still enjoy life on our planet earth. 
Storm Wildlife supports long-term projects and invests in land on a 30 year management plan. Ensuring land has time to mature into a haven for wildlife. Survey businesses need to take a leaf out of Storm's book if they wish to recruit and retain Surveyors in the future.
Action:  Review and assess your ESG values and devise a plan of action on what this would look like, sound like and feel like in your survey business.  
8. A switch in where to advertise. 
Think outside the box she says, but the saying is true.  Reaching out and attracting candidates that meet different objectives like advertising at rowing clubs to attract water based personnel for River Survey jobs?  
Survey businesses need to attract and educate a different audience due to the pool of surveyors being at the low end.  Not only thinking of where but how?  
Using new methods like mobile advertising or launching a competition in the local newspaper. People spend hours on their phones each day so it makes perfect sense to launch a mobile marketing recruitment strategy.  
According to Truelist the number of mobile users worldwide will reach 7.33 billion by 2023 Yikesssss!  And mobile advertising spending is expected to surpass $240billion by 2022 so even if you don't jump on the bandwagon your competitors will!  
Another thing to take into account is that Google is the preferred choice of 96% of smartphone users globally!  
Action: think about plotting out a mobile marketing campaign for recruiting new surveyors. 
9. Adopting automation
Adopting automation and redesigning the work process will need accelerating if you wish to stay in the game and on the recruitment curve.  
Reassessing processes that can speed up mundane admin tasks like email marketing and customer service automation. Survey businesses will need to think about their internal processes in order to reduce the donkey work and spend more time on the stuff that makes the money.  Point 1.
Point 2. Automation tools will augment the workforce by optimizing workplace processes according to Andy Karuza, head of marketing at Base64.ai  It will also mean raising the skill capacity of the current employees so 'ticking' the 'training box' and retaining more personnel. 
Same goes with investing in the latest technology that will enhance your workflow.  Despite the Chinese whispers of Geospatial Manufacturers down skilling surveyors, the reverse is true; it's speeding up your processors and automation.  
Efficiency is key.
Action:  Make a list of all the tasks you have to do on a day to day basis.  Can you replace them with automation?  Who can take over this task?
10. Employee Branding. 
I am not shy at promoting and boosting the brands of my employees and nor should you.  Your people are your brand and by coaching them to make a name for themselves is a great way to share what you do and attract like minded candidates. It not only boosts their confidence, they feel valued and trusted. 
As defined by Meltwater "employee branding is the perception created by employees and potential employees about your company as a workplace"
Your people can clearly position your company as a great place to work and showcasing them is a great way to build your brand. 
According to everyonesocial, positive employer branding helps to attract and retain quality employees, who are crucial to the success and growth of the business.  As PWC mentioned in their survey, millennials want to work for a company with a solid reputation and culture. 
Employees represent the brand on the front line, so great employer branding filters through to the employees which helps with recruitment .  Branding is therefore consistent instead of ad-hoc because everyone is on the same page.  The downside is the exposure of good people being poached, however, it boils down to your culture, hiring the right people who fit into your way and good leadership skills. If you are losing people, you will need to assess the true cause of poor employee retention.
Action:  Sit with your employees to discuss the company's brand. Find out what they really do think of the business and does it fit with your brand values?
---
7 Steps for a super duper recruitment campaign
Now that we have uncovered the recruitment issues, it's time to turn our findings into a workable plan to address this beast head on.  
My initial plan is to give you a step  by step guide to use for attracting and educating potential employees.  The steps laid out will give you the foundations to start with.  Help you think differently with the information I have uncovered and hopefully give you the stepping stones to start to find people! 
Enter your details below to reveal a link to the guide:
In conclusion 
Talent is a business priority for every business, not just within the Survey Profession.  Large construction projects are offering huge packages which are having an impact on smaller survey firms all over the globe.  
Covid19 has accelerated the shift in employee mindset as well as a shift in demand for different things, thus sucking the life out of certain industries. 
Surveyor leaders need to stop talking and take action if they are going to solve this crisis now!  While Get Kids into Survey and other organizations are heading up the longer term plan of brand awareness of the profession, the problem is today.  So what can survey companies do today to fix this issue?
First Survey companies need to educate themselves in the new way.  Understand what is happening, then plan out a course of action by making a plan on what they want then executing on it. 
Setting up a Marketing Campaign focused on recruitment.  Understand and know their buyer (candidate).   Building in a journey candidates will take and developing a marketing communications plan that attracts then educates the candidate thus attracting new recruits to the demand to be filed.
Unfortunately there is not a quick fix.  Mindset will hinder many survey firms in implementing this.  Only a few who take the bull by its horns will succeed – the same as marketing your survey company.