How do I develop strategy?  Where do I start?  
Have you been wondering 'where' to start with strategy development?  Need to realign your business or just get 'things' moving?
Your strategy depends on 'what you and/ or your board want for the business'.
Ask yourself the following:
What do I want to develop my strategy?
What are we weak on?  And could do better?
Do I want to grow my business and | or sell it? Or other?
What's important to me? Lifestyle? Making money? Being successful?
To start you off, try and look at the overall big picture.  Why? This gives you a good indication of 'what things look like'.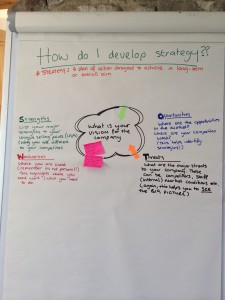 The Big picture stuff:

Draw out on a white board your goal and give it a time frame. Be realistic otherwise you wont achieve it.
Write down the key strengths and weaknesses of your business.  Highlighting what needs work? Ie. Weakness: Staff  development, therefore we don't have the skills in house.  (This highlights what gaps you have and what you need to address)
Write down the key opportunities you can see ie. a weakness in your competitor, which you could take advantage of.
Write down the major threats to the business, these could be political or economic or a major threat from a competitor or internally.
Review what your competitors are up to overall.  Now, I don't mean copy them but see what they are doing.  Reviewing what the competition are doing highlights potential market developments and directions you may not have seen.
From your SWOT (Strengths, Weaknesses, Opportunities and Threats) Analysis, this will highlight potential strategies for development.
See our first GoogleHangouts: How do I develop strategy? Where do I start.
References:  Michael Porter; professor at the Institute for Strategy and competitiveness.  Institute of Directors, UK.  Cranfield school of management.