Sheep Land, Thursday 22 October 2020
Dear Friend,
Welcome to the first ever Geospatial Marketer Newsletter, a monthly newsletter from me, Elaine Ball, on all the stuff that matters – geospatial marketing, life and horses! (OK… Maybe not so much on horses.)
A big thank you to my first 42 subscribers! A big hug from me!
And if this email was forwarded to you but you'd like your own in future, just sign up here and I'll do the rest.
What to Expect
Over the course of the next few months, I'm going to share with you the basics to marketing management. That's everything from what content marketing is to how to improve your sales funnel! Even how to build a business case for marketing in your geospatial business!
The whole objective is to build your business and attract your best clients. As we go on this journey together, I'll share with you the best marketing I can possibly deliver.
Your feedback on this will also be extremely important, so please feel free to drop me a WhatsApp at any time on +44 7825 517850. This is my personal number and I give it to you with open arms.
---
I have something to prove to you
To begin with, I want to give you some background about me. Why? Because (quite rightly) you'll never believe I can help you build your business unless I first prove to you why I can.
Who am I to tell you what you should do? What the hell do I know about geospatial surveying? Am I just a marketing girlie who trips around in high heels and has no clue about what all those machines actually do?
Here's how I started out
I didn't always want to be in the world of surveying. As some of you will know, I'm a keen horsewoman. So the first step on my career path was backing young racehorses in Texas, USA! I was the fat girl who could tire them out…
But my dad (Steve Ball) was tough. He told me there was no money in horses – and he was right, unless you're a vet or racehorse owner who wins the Kentucky Derby!
My dad's my mentor and my best friend, so I trusted and believed him.
So I started my career working for my father. He's a hydrographer and a mine surveyor – and he's done some sh*t!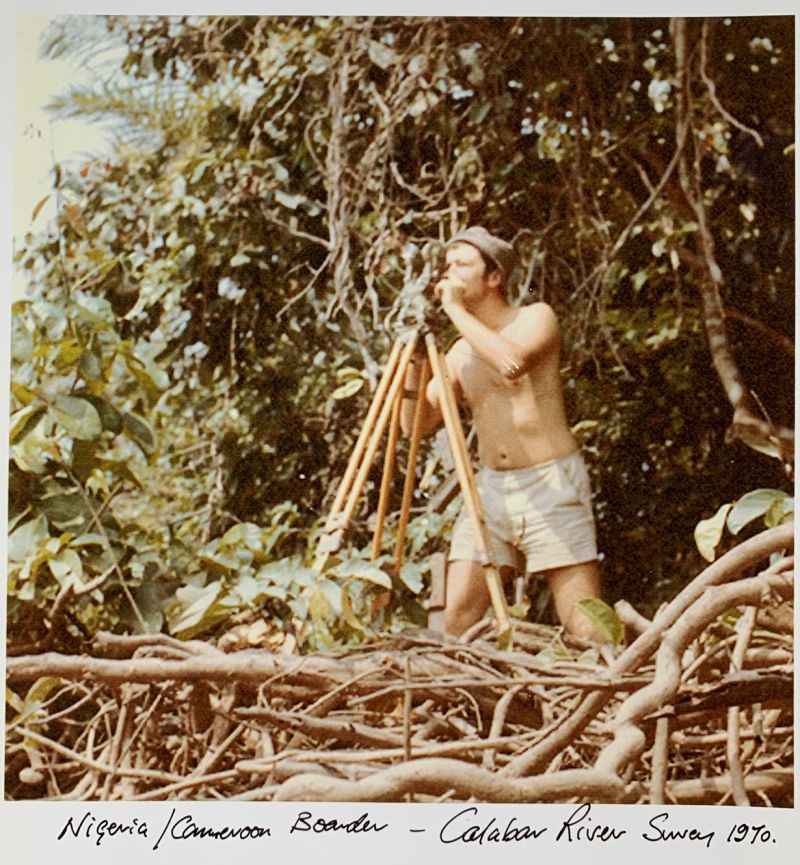 Here's a picture of my 21-year-old dad surveying the Calabar River on the Nigeria/Cameroon border for West African Surveys in 1970.
The river banks were just mangrove swamp. He had to drive long piles into the river bank to create a stable platform and reference point.
Wild T2 theodolite and microwave tellurometers (distance measurements) were the tools of the day!
He says it feels like only yesterday (ha ha).
So I went to work in the 'family business' and began my career manufacturing laser-range finders. Not just any rangefinder, but tools for harsh environments that would make life 'easy'.
You will know some of our amazing tools, including Dynascan (now known as the Trimble MX2) and LaserAce, which was integrated into the Trimble Geo7x series. We even sold laser altimites (as landing redundancy units) to General Atomics, who integrated them into the Predator drone – so we were an interesting and diverse business.
We had this product called Quarryman (macho name, huh?). It looks like a theodolite, but it was an automatic laser scanner for measuring rock-face geometry in quarries. It was sold to blast engineers who needed to know the rock face measurements so they could use the right amount of explosive to blast it! The Quarryman retailed at £18k.
A large Survey Manufacturer sniffed around us in the early 2000s, as they couldn't understand how we had built such a monopoly on the global quarry market. They just couldn't shift their £35k+ fancy-damn theodolites against us. I remember they took a Quarryman to Switzerland, stripped it, and were like, "But it's so simple!"
Stepping up, and loving it
So my career began, and in 2004 I became marketing director at MDL. My life was heaven! I was communicating with mine engineers, hydrographers, surveyors, engineers and foresters all over the globe. Back in the day, it was all about faxes, direct mail, working on press articles and attending numerous exhibitions. Using all the old-school marketing collateral, which I loved!
Dad booted me out of my comfort zone
In 2008, we hit £10 million in sales, with a healthy profit margin. One day, I made the mistake of saying in a board meeting: "I love my job!"
Turns out, that was entirely the wrong thing to say (who knew?!) My dad propelled me out of my comfort zone into the world of the boss. I even had to sit in his office, at his table.
What was I to do with all these engineers and production folks? How could I manage them? I had no experience! I was quite comfortable dealing with marketing, sales and surveyors.
And just when this happened, the global financial crisis hit. Great.
Who the hell did I think I was??
I'm very self-aware. I was conscious that I'd become the female boss (a lonely place). I was also the boss's daughter, and I was 27 years old. It didn't go down well with a couple of the board members (60+ male stale pale), but actually they were supportive enough to guide me in the right direction.
My heart still lies in working with people, and I was constantly going to training courses, executive camps and the Institute of Directors in Pall Mall, London. I was not going to sink! I refused to.
Investment time!
During the recession, Dad still wanted to raise money in order so we could grow. So we reached out to our shareholders (who had about 20% of the business; a business expansion fund set up by Maggie Thatcher, Scottish thing, because MDL was born in Aberdeen, Scotland). We asked to raise £1 million to help buffer the cash flow situation and get us over the next hurdle.
We had offers back from over 30 of our shareholders, even a famous hotel chain owner who will remain nameless (cool, huh?). One gentleman called John Deer (not the tractor guy) invited us to Bristol to a fancy hotel to have a chit-chat about our plans.  As we sat in the Calcot Manor, sipping gin and tonics, in walked the entire board of directors from Renishaw plc, a big British engineering company. GULP!
John's response while I was sipping my G&T was "I don't want to give you some petty cash," he said, "We want to buy you." And so the acquisition game began.
Renishaw have skills in measurement, motion control, healthcare, spectroscopy and manufacturing. John Deer was their joint chairman, and had been an MDL shareholder since 1984. (But on the plus side, he was a horse owner! So we really hit it off.) Renishaw became the full owners of MDL in January 2013.
The lone search for amazingness
During my time at MDL as the boss woman, I was always on the lookout for 'amazingness', and hiring consultants left, right and center. My problem was that I could never find anyone who understood my technical world of geospatial. I could find technical writers, for example, but not hard-core marketers who were good with both people and technology!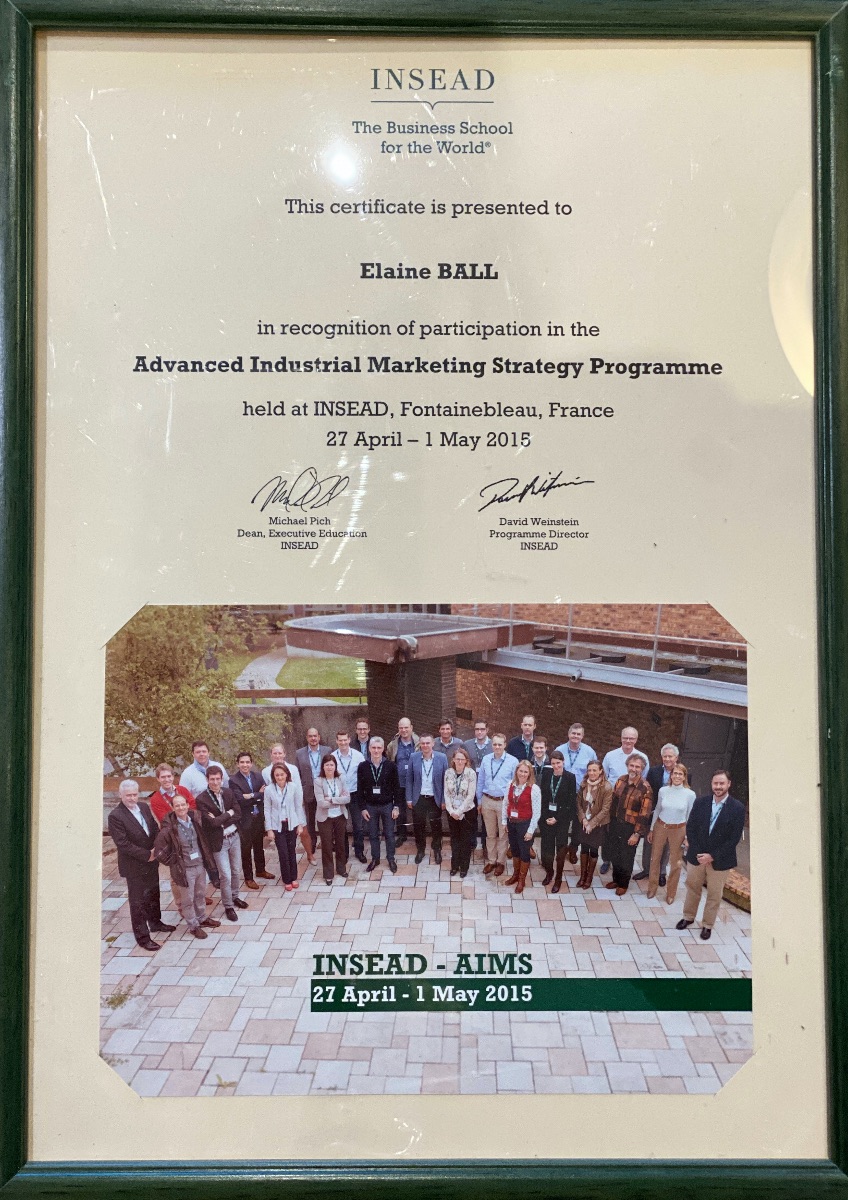 So Elaine Ball Technical Marketing was born in May 2013. My first client was WipWare, a real-time fragmentation analysis company based in North Bay, Ontario… bear land! These guys measure the sizes of rocks on conveyor belts (sexy, or what?). Then, in the September, I got chatting to Pete Large, VP of Trimble and long-time friend (we literally grew up in similar roles, his much larger than mine). He hired me to help with his dealer network around the globe. So I basically sat on plane after plane after plane for the next two years, running marketing workshops with dealers and meeting some awesome folks along the way.
By 2014 I was heading to Social Media Marketing World in San Diego, Content Marketing World in Cleveland (where POB Magazine resides), and doing the Advanced Industrial Marketing Strategy Programme at INSEAD in France.
It was all to better my skills and cross-check real life with academia.
Today my training doesn't stop! When you stop learning, you go stale.
And that's why I also think I can pass on what I know and what I'm learning.
What's Next?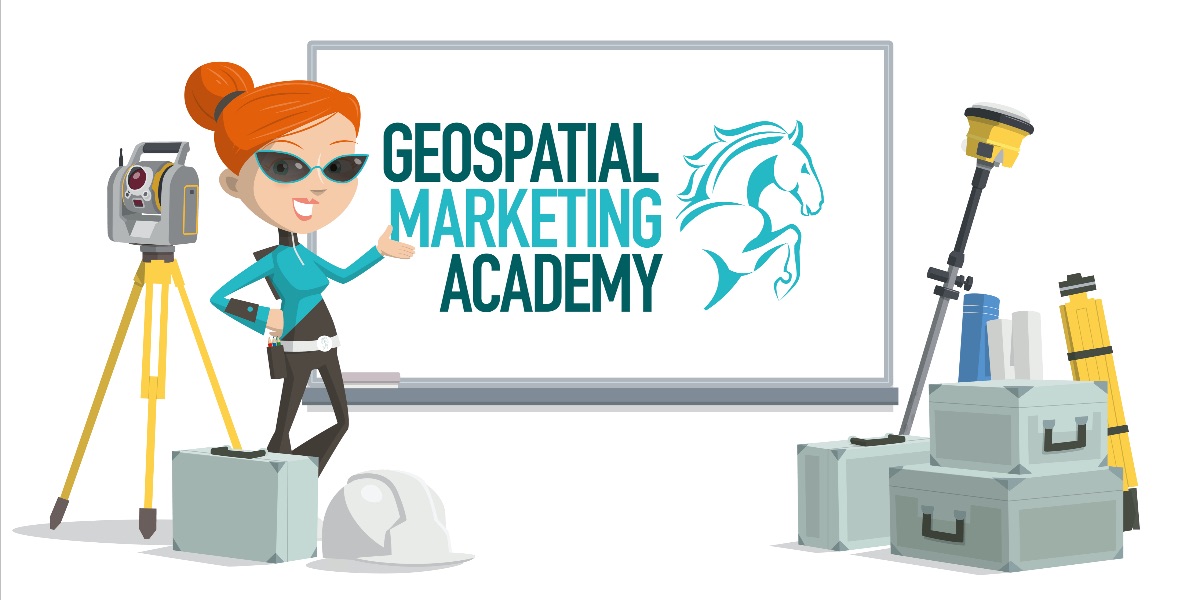 Over the next 12 months I'm going to dive into essential marketing subjects and share with you valuable information that will excite you, give you the foundations to build a strong marketing base in your geospatial firm, and set you up for life!
Thanks for reading. Thanks for your kindness and generosity.
Stay safe – stay sane – above all, wear a mask.
I'll be back on 5 November.
Yours,
Elaine
PS If you want to discuss Marketing at any time, join our PRIVATE Geospatial Marketing Academy Group on Instagram here.