EBTM's Marketing Consultants sharpen their Social Media Skills
What is Social Media?  Who is EBTM?  And… why do we care?
Elaine Ball, founder and Marketing Consultant of EBTM and Amanda Finn, Marketing Communications Consultant are flying off to sunny San Diego to take part in Social Media Marketing World Conference.
The Conference will bring together over 2,500 marketers from around the globe to sharpen their Social Media Marketing Skills.  EBTM are international technical marketers specialising in Industrial Marketing.  They focus on the Geospatial, Offshore and Mining Industries due to their background in Laser Measurement tools for surveying applications.  Elaine and her team provide services from strategy formulation through to execution and specialist projects for clients such as developing reseller networks as well as advising on Social Media, SEO and traditional marketing.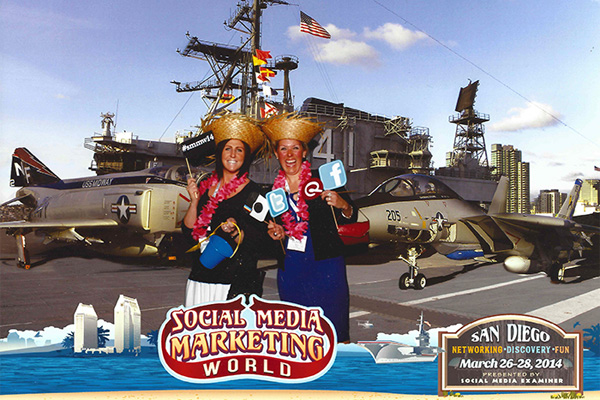 Social Media is growing at an astonishing rate, as Marketing Consultants EBTM have to be ahead of the game for their clients, in order to provide the best advice possible to their clients.
This is the second time Elaine and Amanda have attended Social Media Marketing World Conference.  The Internet is growing at an astonishing rate and is set to grow by 600% by 2020 (that's equivalent to 6 internets in 2015 terms), how are you going to be seen or heard!  Many companies working in the Industrial sectors such as mining, geospatial and offshore find it difficult to understand why Social Media is so important.  Apart form helping to 'spread' your brand name about, it's a tool used to enhance the number of visitors to your website (Search Engine Optimization), sales leads!,
Social Media Marketing World Conference brings all the top Marketing Gurus together in one place, Elaine and Amanda will focus on the specialists who they feel will enhance the technical industries, providing EBTMs clients with the latest updates and keeping them ahead of the competition.
Michael Stelzner, founder and CEO of Social Media Examiner comments:
"Social media is rapidly changing the way customers and prospects interact with businesses. It's those organizations that keep pushing the boundaries of content creation and interaction that will thrive in this new world."
Elaine Ball, CEO of EBTM says "We have to be ahead of the marketing game as marketing consultants.  Making sure our skills are up to date and therefore passing the right advice to the client.  We are so excited about Social Media Marketing World Conference.  Its just amazing!"
About
Elaine Ball Technical Marketing (EBTM) Ltd is a professional and devoted International Technical Marketing Consultancy, specialising in helping B2B companies grow and become profitable through focused strategic marketing, business development, marketing planning and marketing implementation.
With over 30 years collective experience, EBTM expertise's lie within the Geospatial, Laser Scanning, Survey, Mobile Mapping, Oil & Gas, Offshore, DP, Dynamic Positioning, UAV, Mining and Quarry sectors.
EBTM simplifies the marketing process, we remove marketing jargon and replace it with easy to understand terms, which in turn nurtures learning, understanding and success.
EBTM have 2 divisions: Marketing Consultancy and Marketing & Business Development Training.
The Marketing Consultancy arm of EBTM is split into 2 sections: 1). Strategy day work (focused on 'where to go'): facilitation and development.  2). Marketing planning (taking the strategy and turning it into a marketing plan) 3). Marketing Implementation; actually doing the execution.  Being your marketing department.
Contact details
www.elaineball.co.uk
e:  elaine@elaineball.co.uk