Elaine Ball, EBTM's CEO has had a busy few weeks, starting with the Mining Indaba Conference in Cape Town, South Africa, from 3rd to 6th February then closely followed by the ISEE Blasting Conference in Denver, Co, USA from 9th to 12th February.
Attending the Mining Indaba Conference on behalf of Moore Equipment Sales (MES) LLC and Telplus Zambia Ltd, Elaine visited key companies such as VALE, Rio Tinto, ARM and Newmont Mining to discuss how they can support companies with their requirement for satellite equipment and accessories.
Elaine visited clients and potential clients on behalf of MES as their Marketing Director. The conference was a key show for MES to meet with customers and put a face to the growing brand.
Elaine comments: "The Conference was very rewarding, even though I was just visiting.  MES are slowly building a solid African Brand and seeing it develop is very exciting. The mining industry is a key market esp with the growth in Africa and EBTM''s contacts"  
After Mining Indaba, Elaine jetted off to Denver, CO, USA for the ISEE blasting exhibition. (9th to 12th Feb).  The Conference concentrates on the latest blasting techniques.  Elaine attend on behalf of Canadian Client; WipWare.  Elaine met up with the extended WipWare family of dealers to talk strategy and marketing.
The WipWare team (including the dealers) are a passionate bunch, making growth and development of the WipWare brand a pleasure to implement.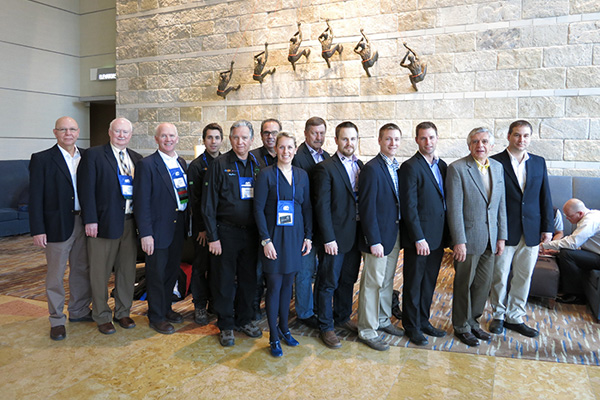 (PIX: WipWare Dealer get together at ISEE, Denver, CO, USA – 9th to 12th February 2014)
It's very important to plan when expanding a company and EBTM's remit is to do this.
Back holding the fort, ebtm's Marketing Communications Director; Amanda Finn was working on key accounts.  As the company expands, ebtm have got to make sure their visiion is clear and they continue to support their clients 101%.
Amanda comments: "ebtm is very unique as we offer industry knowledge backed by marketing skills, we get involved like we are your marketing team.  As the company expands, we have to make sure we continue to support 101%.  I am very passionate about what i do and I care very much about our clients and their needs"